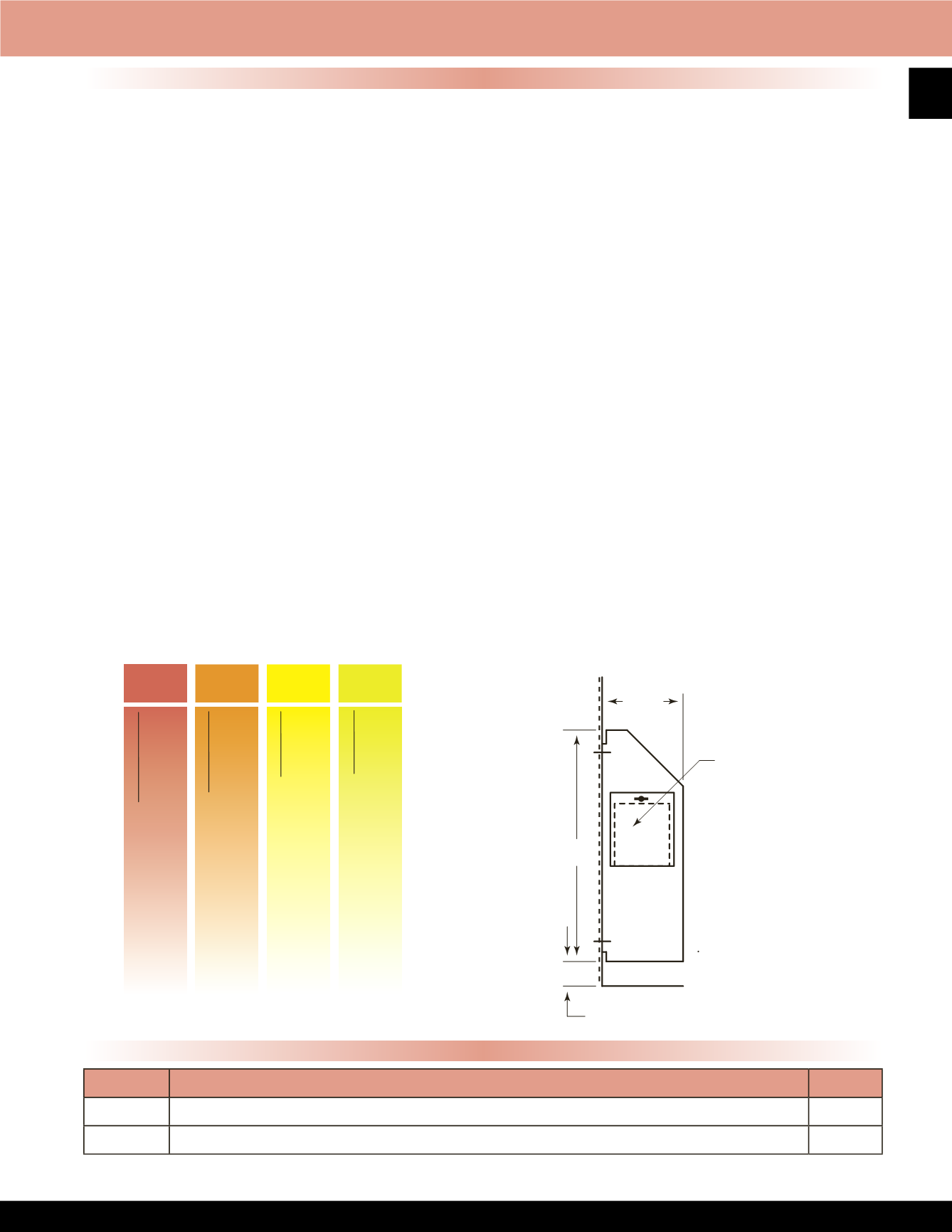 31
HOW TO DESIGNATE A MODEL:
Series Number
Unit Wattage
050=500 075=750 100=1000
125=1250 150=1500 200=2000
Unit Length
1=18" 2=28" 3=36"
4=48" 5=60" 6=72"
H 880 3 100
Element Voltage
E=120 F=208 G=277 H=240
L=346 P=480 U=600
5.00"
18.00"
ACCESS DOOR
4.00"Minimum
FLOOR
NOTE:
Allow 12 inch
clearance on left
end of unit and 4"
to the floor.
left side view
Optional In-Built Controls
8800 Series Institutional Wall Convector
CABINET:
Institutional enclosure 11 gauge perforated steel with sloped top design. Heavy duty end caps welded to
the enclosure. Control compartment for housing thermostat and disconnect switch is accessible by use of
security type fastener. The entire enclosure is protected by epoxy powder coated paint finish.
ELEMENT:
All steel high mass element construction with Nickel-Chromium resistance wire embedded in compacted
efficient dielectric to ensure proper heat transfer. Aluminum fins mechanically bonded to steel tube allows
for increased surface area and even heat transfer.
LIMIT CONTROLS:
Automatic reset hydraulic thermal overload covers full length of heating element and shuts down heater
when safe operating temperatures are exceeded.
WIRING:
Wiring connections shall be made in left end of cabinet enclosure. Wiring must enter into control enclosure
behind perforated steel grill.
CONTROLS:
All controls are accessible only through control enclosure door. Security type fasteners restrict access
to controls. Built in thermostat and disconnect switch with manual adjustment are located in control
enclosure.
Product Specifications
*Not available on international models
SUFFIX
DESCRIPTION
LIST
T2
Tamperproof, Hydraulic, Double pole In-Built thermostat range 40°-110°F, 25 Amp
146
24V*
24 Volt In-Built single pole thermostat for 120V 208V, 240V & 277V models. 40°-110°F
177