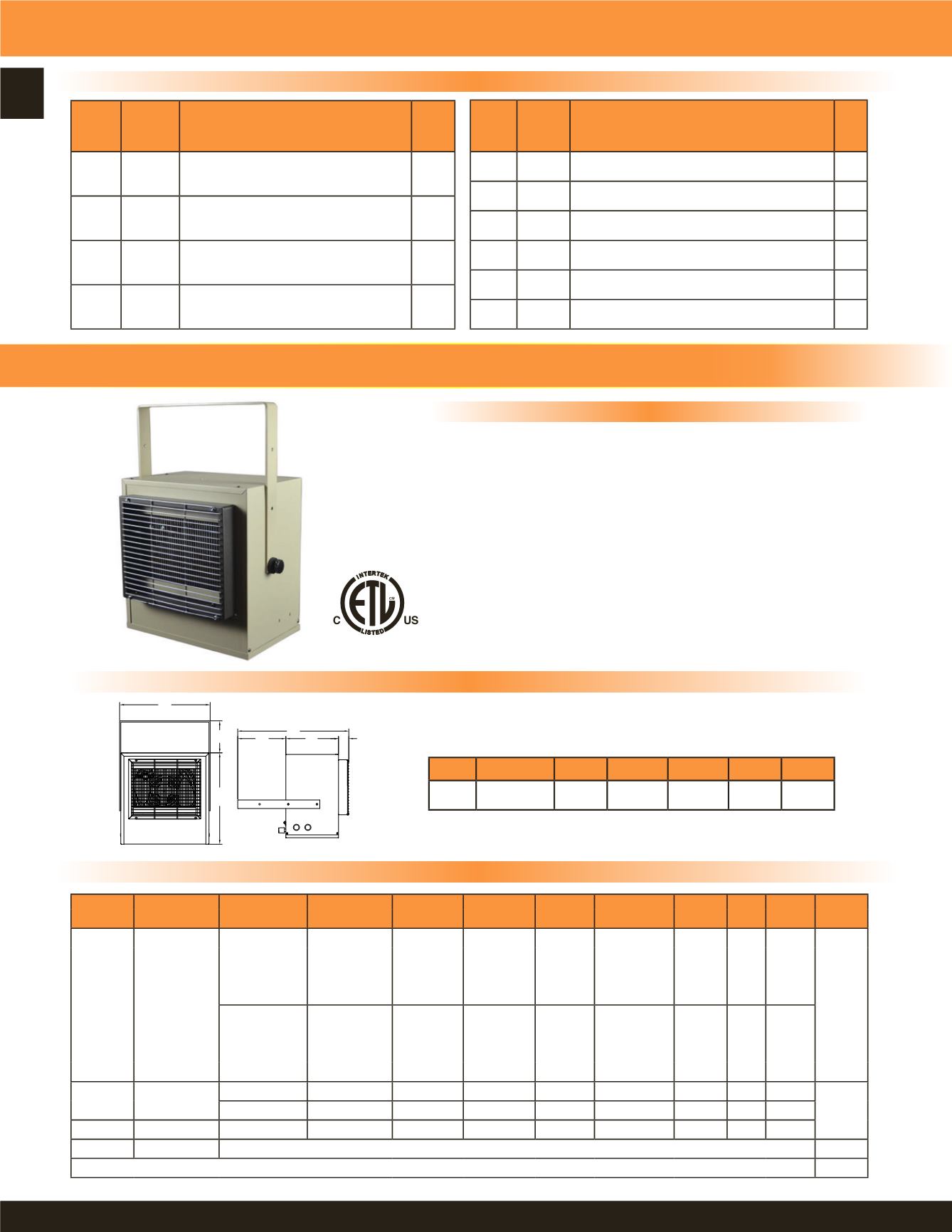 2600 Series Downflow Unit Heater
5700 Series Confined Space Plenum Rated Heater
• Easily fits between joists for typical installation.
• Zero clearance for wall and ceiling mounting as well as floor
mounting with appropriate inlet and outlet clearances.
Bracket standard or can be mounted by 3/8" threaded rod
Automatic reset thermal limit for safety
• 1 Phase model wattage field changeable from 1874 to 5000
24V control circuit on three phase models with hydraulic
Features
Standard Models
Field Installed Accessories
A B
C D E F G
14.4" 19.4" 14.5" 8.4" 5.1" 9.2" 1.8"
Product Dimensions
Certified to CAN/CSA C 22.2 No.236-11
UPC#
MODEL
WATTS
BTU's
VOLTS PHASE AMPS TEMP RISE AIR
THROW CFM WT.
(LBS.) LIST
686334
Optional Field Installed Disconnect Switch, 30 Amp @ 600Volts
For 24V control on single phase models delete "T" suffix
UPC#
686334 MODEL
DESCRIPTION
LIST
691109 TC1602 Wall Mounted Stratification Thermostat
717755 A1600 Ceiling Mount Bracket 5-20 KW Models 120
717762 A1601 Ceiling Mount Bracket 25-50 KW Models 134
Linear Louvered Diffuser 5-20 KW Models
717809 D1612 Linear Louvered Diffuser 25-50 KW Models
717816 D1600 Radial Louvered Cone Diffuser 5-20 KW Models 444
717823 D1610 Radial Louvered Cone Diffuser 25-50 KW Models 519
Anemostat Diffuser 5-20 KW Models
Anemostat Diffuser 25-50 KW Models